The main TMDA Quality Control Laboratory is located in Sub-office in Dar es Salaam and is responsible for testing finished products of medicines, diagnostics, medical devices and other health products for regulatory purposes. Products tested include: human and veterinary medicines, blood bags, face mask, disinfectants, antiseptics, infusions, sutures, gloves, syringes, condoms, surgical blades, etc.
Laboratory has two (2) sections: Medicines and Complementary Products Analysis; and Medical Devices Testing and Microbiology Analysis. Medicines Analysis Laboratory is prequalified by WHO whereas Medical Devices Testing and Microbiology analysis laboratories are in preparation for accreditation to ISO/IEC 17025:2017.
Equipment's, Parameters and Personnel
TMDA Laboratory is equipped with modern equipment that are calibrated and maintained at frequencies specified by QMS documents in order to ensure maximum run-time and produce reliable and accurate results. Laboratory is employing qualified staff who receive regular training as per TMDA's Training Program and also participate in proficiency testing scheme to assure their competence.
Equipments

Some of the Major equipment in the laboratory include:

LC-MS
GC-MS
HPLC
UV-VIS Spectrophotometer
FTIR Spectroscopy
Polarimeter
UV/PDA/IR/FD
Dissolution test apparatus
Friability apparatus
Microwave Plasma Atomic Emission Spectrometer (MP-AES)
Karl Fischer Autotitrator
Melting point apparatus
Disintegration tester
Sterile room to facilitate sterility testing
Biosafety cabinet
Steam sterilizer
Autoclaves
Incubators
Electric leak test
Automated inflation system
Visual leak test
Eye vision machine
Automated width tester
Automated length tester
Automated thickness tester

Parameters

Some main parameters that are tested at TMDA laboratory include:

Identification
Assay
Disintegration
Dissolution
Related Substances /Impurities profiling
Friability
Uniformity of dosage unit
Heavy metals contamination
Sterility test
Extractable volume
Microbial Assay
Microbial Limit
Bacterial Endotoxins Test
Microbial Cleanliness
Bacterial filtration efficiency
Antimicrobial effectiveness
Challenge test
Residual solvents
Clarity/colour of solutions
Particulate matter
Physical or visual inspection
Melting point determination
Optical rotation by polarimetry
Tensile strength
Freedom from holes
Package integrity
Absorbency capacity
Absorbency rate
Water holding capacity
Length
Width
Thickness
Dar es Salaam TMDA Quality Control Laboratory has 25 laboratory Analysts with various qualifications as follows:
| | |
| --- | --- |
| PhD | 3 |
| Master's degree | 4 |
| Bachelor degree | 7 |
| Diploma | 8 |
| Certificate | 3 |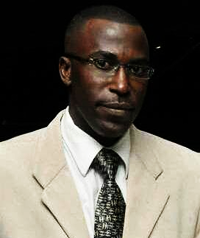 Dr. Yonah Hebron.
Manager, Medicines and Complementary Products Analysis
Medicine and Complementary Products Analysis Laboratory
This Laboratory is responsible for analysis of various pharmaceutical products including: human medicines, veterinary medicines, raw materials, antiseptics, disinfectants and other products that may be deemed to constitute medicine. For equipment's and tests performed in this laboratory see above under equipment and personnel.
Ms Siya Augustine
Ag. Manager, Microbiology Analysis and Medical Devices and Diagnostics Testing
Medical Devices and Diagnostics Testing Laboratory
The laboratory deals with the testing of medical devices and diagnostics such as condoms, gloves, sutures, syringes, surgical blades, bandages, absorbent cotton, diapers and pads. In addition, it conducts analysis on rapid testing kits e.g. pregnancy test, TB and HIV/AIDS.
Microbiology Analysis Laboratory
Microbiology Analysis Laboratory conducts microbiological tests when applicable to regulated products. Various products tested in this laboratory include medicines, liquid injectables, masks, blood bags, gloves, sutures, infusions, surgical blades, syringes, and infusion. For equipment and tests performed in this laboratory see above under equipment's, parameters and personnel.