Orphan medicines
This guidance assists applicant with the process of applying for orphan designation of a prescription medicine to receive a waiver of application and evaluation fee for registration on the Tanzania Medicines and Medical Devices Authority.
Purpose of designation
Designation is a formal process that allows TMDA to make a decision under the Tanzania and Medical Devices (Orphan Medicines) Regulations, 2018 regarding whether the medicine is eligible for orphan designation.
The designation application precedes the registration application and is the formal application made using a specified form provided in first schedule of the Orphan Medicines, Regulations requesting assessment against the relevant eligibility criteria and a decision from TMDA.
Application and evaluation fees are waived for prescription medicine registration applications if a related orphan designation is in force. You can lodge an application for registration of an orphan medicine through any available prescription medicine authorization process, subject to meeting the requirements for that authorization process
Benefits of designation
A valid orphan medicine designation must be held in order for benefits resulting from designation to apply to a submission for registration on the TMDA registration database.
Orphan designation of a medicine can:
facilitate orphan medicines access to the Tanzania marketplace
help offset orphan medicines development costs
provide a consistent and transparent process for assessment against the eligibility criteria
Medicines with orphan designation have the same evidence requirements as other prescription medicines and will be evaluated by TMDA for quality, safety and efficacy in the same way.
Eligibility requirements
Eligibility criteria for the orphan medicines program are: -
The medicines are intended for use in a life- threatening or chronically debilitating condition affecting not more than 25,000 persons in Tanzania at the time of designation and or application of marketing authorization
The medicines are intended for use in a life-threatening, seriously debilitating or serious and chronic condition in Tanzania and that without incentives it is unlikely that the marketing of the medicinal product in the country would generate sufficient return to justify the necessary investment and;
There exists no satisfactory method of diagnosis, prevention or treatment of the condition in question that has been registered in Tanzania or, if such method exists, that the medicinal product will be of significant benefit to those affected by that condition
Process flow
An Applicant may submit an application to TFDA at any stage of development of a medicinal product, during review of the application or after marketing authorization has been granted for a different indication to obtain the designation status. See the Process for orphan medicines designation diagram for an overview of the process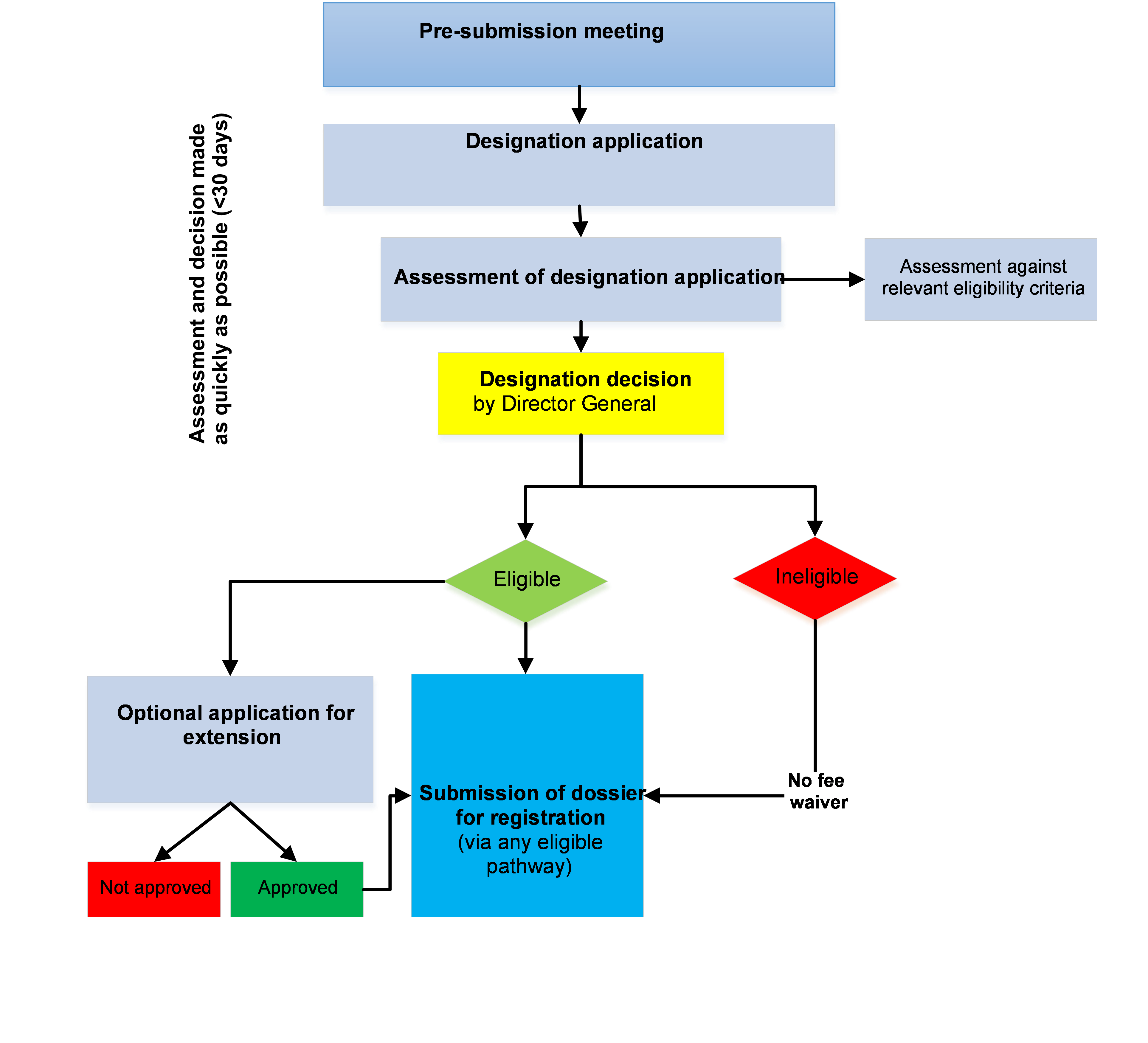 Fees for orphan medicines designation
No application fees shall be charged by the Authority for designation and subsequent marketing authorization of orphan medicines. Medicinal products approved as orphan medicines shall not be eligible for payment of annual retention fees as well as fees for renewal of registration until after the designation has ended.
Timeline
| | | |
| --- | --- | --- |
| S/N | Process | Timeline |
| 1 | Review and aproval of the request for designation of an orphan medicines | Within 30 days |
| 2 | Review of responses (if additional information requested) | Within 5 days |
| 3 | Notes to applicant on the outcome of the designation application | Within 7 days |
| 4 | Review and approval of marketing authorization of orphan medicines | Not more than 60 days (2 months) from the date of orphan designation |
Publication of designation outcomes
Publication of designation outcomes If an orphan medicine designation is approved, the Authority will publish details of the eligible designation decision on the TMDA website. The information that will be published are provided in the Second Schedule of the Orphan Medicine Regulations.
Period during which the designation is in force
The orphan medicine designation comes into force when it is granted marketing authorization and remains in force for a period of two (2) years unless it is extended or revoked.
Renewal of marketing authorization of orphan designation
Orphan medicines are eligible for renewal after the marketing authorization is ended. All applications for renewal of orphan medicines shall be treated in the same manner as for any other medicinal product except for fees and charges which are exempted as prescribed in the Orphan Medicines Regulation, 2018.
Applicants for renewal of orphan medicines shall submit to the Authority information to demonstrate that the respective product(s) are still subject to the criteria for orphan designation.