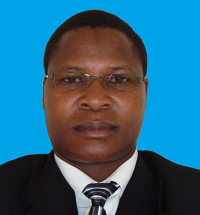 Mr.Bugusu Nyamweru.
Manager, Mwanza Laboratory
TMDA established a modern Quality Control Laboratory in Mwanza which is located in the Lake Zone, for the purpose of extending laboratory services close to the public and allowing for their easy accessibility. The laboratory caters services for Mwanza and other regions in the Lake Zone.
The laboratory is subdivided into two (2) main laboratories: Medicines Laboratory and Microbiology Laboratory. These laboratories are responsible for analysis of various pharmaceutical products.
TMDA Mwanza laboratory is equipped with modern equipment's which are calibrated and maintained accordingly. These includes:
HPLCs;
LC-MS-MS;
UV-Vis Spectrophotometers;
Micro Plasma Atomic Emission Spectrometer (MP-AES);
Dissolution test apparatus;
Polarimeter;
KF titrator;
pH & Conductivity Meter;
Reverse osmosis water purification machine;
Steam sterilizers;
Autoclaves; and
Incubators.
Parameters which can be tested in this laboratory are the same as those in the main laboratory located in Dar es Salaam with the exception of medical devices. At present, this laboratory is in the process of capacity building in regard to training of staffs and procurement of equipment for testing of disinfectants and antiseptics.
Disinfectants are liquid chemical compounds designed to inactivate or kill harmful microorganisms on inanimate surfaces and are mainly employed in health-care settings e.g. for cleaning of hospitals, health centres, dispensaries, etc. Antiseptic is a chemical agent that inactivates micro-organisms on external surfaces of human body, so that they do not enter the body and cause diseases.
Quality of disinfectants and antiseptics is a new challenge that the Mwanza laboratory is preparing to address. It is aimed to be a centre of excellence for testing of such products.
Laboratory Manager Contact