East African Community Mutual Recognition Procedures (EAC-MRP)
EAC- MRP was adopted by the EAC Council of Ministers on 28th November, 2014 in order to harmonizes the registration procedures of Immunological Veterinary Products (IVP) within the Region. The initiative is implemented by the National Bodies regulating Veterinary Medicines in the EAC.
The EAC Secretariate, the Technical Working Group (TWG) and the Coordination Group for Mutual Recognition (CGMR) with financial and technical support from GALVmed initiated the procedure on 27th September 2019.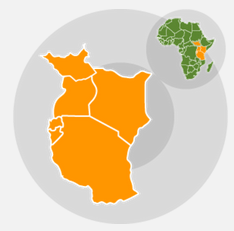 Objective of EAC-MRP
To harmonize Immunological and Pharmaceutical veterinary medicines registration systems within the Region
To reduce duplication of effort and maximize resources through:

Joint assessments
Joint site inspections
Documents developed under EAC-MRP
Standard Operating Procedures (SOPs)
Guidelines on Submission of Documentation for Registration Veterinary Products
Dossier structure Guide for registration of Veterinary Product
ariation guidelines
Guideline for repeated use of Mutual Recognition Procedures in the East Africa Region
Best Practice Guide for Veterinary Mutual Recognition Procedure in EAC
Guidance for pre-submission Meeting
For more detailed requirements Applicants should refer to the EAC Guidelines on Procedural Aspects for Applications for Marketing Authorization of Veterinary Immunological and Pharmaceutical Products. The guidelines can be accessed at EAC website: